The Gold Coast Hindu Cultural Association (GCHCA) strives to enhance the cultural engagement and spiritual experience of all Hindus in our diverse community. The association seeks to do this through providing members of the community with a platform to develop, promote and expand initiatives in education, the arts, community services and religious affairs.
The proposed "Hindu Cultural and Education Centre" would be the physical abode of the GCHCA where Hindu cultural activities such as classical literature, music, dance and classical language & spiritual education will be nurtured.
We welcome the support of all in furthering the noble objectives of the GCHCA. Please contact us to find out how you can become a Member for Life.
*****************************************************

Announcement

Upcoming Events

We have 2 complementary events in April 2019 to feed our feelings, physique and mind for a healthy body and mind.

Ram Navami
Sunderkand Path on Hanuman Jayanthi

Date: 19 April 2019 (Friday)
Time: 5:30 pm entry (for 6.00pm – 8.30pm)
Venue: Lakeside Community Centre
25 Rose Valley Drive, Upper Coomera QLD 4209

You are invited to participate in this special Bhajan and discourse by Shri Acharya Aashish Ji, who is disciple of his holiness Shri Ashutosh Maharaj Ji, and is qualified pandit who has done his Bachelors in Sanskrit Sahitya and Masters of Education from Haridwar University, India.

Please bring your singing voice, devotion and a plate to share.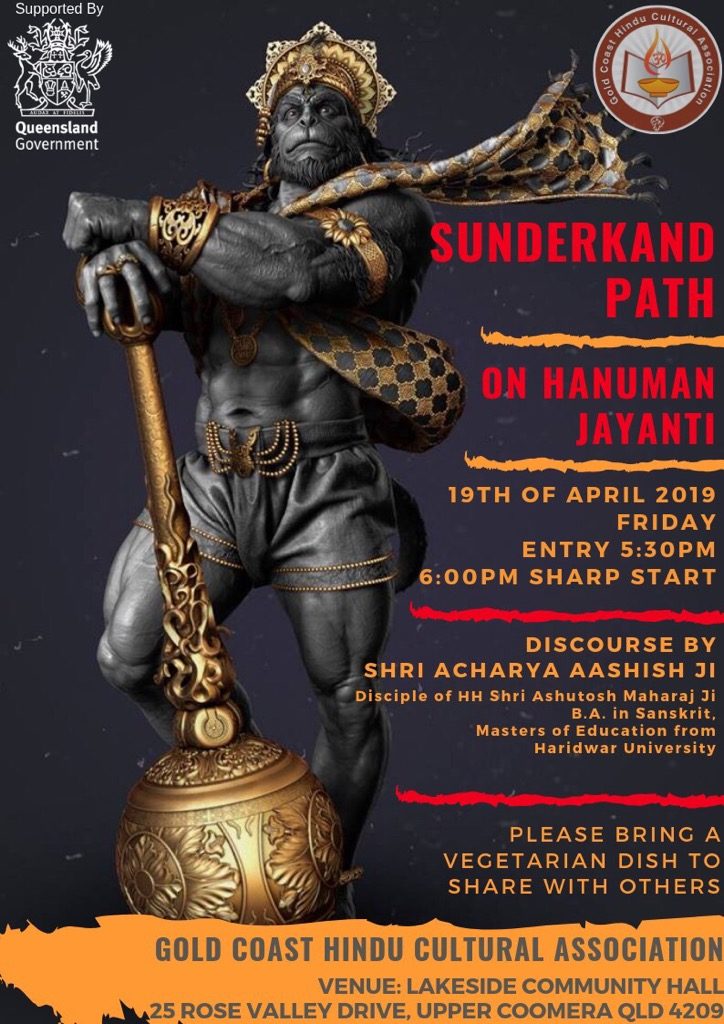 Holy Yagya at GCHCA Precinct
Date: 19 April 2019 (Friday)
Time: 2.00 pm – 4.00 pm
Venue: Gold Coast Hindu Cultural Precinct,
40 Byth St, Arundel QLD 4214
A holy fire ritual (Yagya) to get the blessing for wellbeing of everyone gathered in the State land given to the Association. In performing Yagna, the energies are blended together to achieve the desired physical, psychological and spiritual benefits.

Those who wish to participate in this event, please respond by email to: gchcan@gmail.com  by 17 April 2019 (5:00 pm, AEST).
*****************************************************
Previous Events:
Bhajan
Date: 15 March 2019 (Friday)
Time: 7.15pm – 9.30pm
Venue: Helensvale Community Centre, 31 Discovery Drive. Helensvale 4212
Please bring your singing voice, devotion and a plate to share.
GCHCA hosting Holi 2019 in Gold Coast
Date: 24 March 2019 (Sunday)
Time: 11am – 2:00pm
Venue: Albert Park, 180 Monaco Street, Broadbeach Waters QLD 4218 *****************************************************
Donate Bricks for GCHCA Temple/ Multi Purpose Hall Build
Please support the build by giving Brick Donation (tax deductible donations) which will leave a Legacy for Your Children. Your names and those you want to keep in memory will be captured on a virtual wall and kept for generations to come. http://culture.goldcoasthindu.org/brick/
Our Multi Purpose Hall will help promote culture, education and spirituality in Queensland for the physical, mental and spiritual well being of our community.
Donate to: GCHCA Building Donation Account – BSB: 064 – 474 A/C 1048 8900 (donations of more than $2 are tax deductible and will reduce your tax liability – please consult your tax advisor). http://culture.goldcoasthindu.org/donations/.
Sothi Kanagasabai – 0401 207 221 (m)
President
*****************************************************
Membership & Support
If you would like to support the noble objects of the Gold Coast Hindu Cultural Association, we invite you to join as a "Life Member" .
In addition we have started another campaign: "Thousand Families for Murugan" to support the worthy cause of promoting Hindu philosophy and worship and practice of religious activities.
You can visit the "Donation" link and make generous donations and join in any of the above membership/ campaign. Please contact us by email: gchcan@gmail.com to find out more about these options and to obtain an application form.
To make an immediate donation using credit card, please click on either of the buttons below