Make a tax deductible donation today!
The Gold Coast Hindu Cultural Association is a charitable, not-for-profit organisation. "The GCHCA Building Donation Fund" has received Deductible Gift Recipient (DGR) status from the Australian Taxation Office. This means, that all donations of $2 or more to this fund have been approved as an allowable deduction from your income.
If you would like to donate to "The GCHCA Building Donation Fund" (tax deductible) please make your contribution to the following Commonwealth Bank Account:
| Account Name | BSB | Account Number |
| --- | --- | --- |
| The GCHCA Building Donation Account | 064-474 | 1048 8900 |
You can also donate to the GCHCA Common Account (non tax deductible):
| Account Name | BSB | Account Number |
| --- | --- | --- |
| The GCHCA Common Account | 064-474 | 1048 8230 |
Upon making a donation, please contact our Treasurer via gchcan@gmail.com with your contact details so that we can provide you with a receipt.
To make an immediate donation using credit card, please click on the "donate" button below

You can also donate any amount using the secure engine givenow.com.au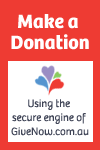 Privacy Policy
We are committed to protecting the privacy of personal information, which the organisation collects, holds and administers.
Personal information is received for the purposes of informing you about our activities in promoting the objects of the Association and fundraising appeals. Personal information held by us may include your name, address, phone numbers, e-mail address and donation details. We do NOT collect or hold credit/ debit card information. Card data handling, if applicable, is outsourced to the Bank.
We do not disclose your information to any third party except where required by law.
If you would like to access the information we hold about you, or have your name removed from our database, or for further information about the Association please contact us by email: gchcan@gmail.com
We will review this Privacy Policy periodically, and if we change our policy, we shall post any changes on this page. If you require any further details please contact us by email: gchcan@gmail.com
Refund Policy
If you believe that an error has been made in connection with your online donation, please contact us on gchcan@gmail.com within 24 hours of making the donation with full details and evidence. We will endeavour to work with you to correct any such error and if necessary, and possible from the Associations view point, make the refund or correction that is appropriate.
The GCHCA is not responsible or able to correct errors associated with donations made to third parties.
Security Policy
We will take reasonable technical and organisational precautions to prevent the loss, misuse or alteration of your personal information.
We will store all the personal information you provide on secure (password- and firewall- protected) servers. However, data transmission over the Internet is inherently insecure, and we cannot guarantee the security of data sent over the Internet.
We will not tolerate fraud in any aspect of its operations. We will investigate any suspected acts of fraud, misappropriation or other similar irregularity.